Sun Jan 6 '19 Announcement
4 months ago – Sun, Jan 06, 2019 at 04:01:10 AM
The next US shipment is already on the Maersk Ensenada / 901N.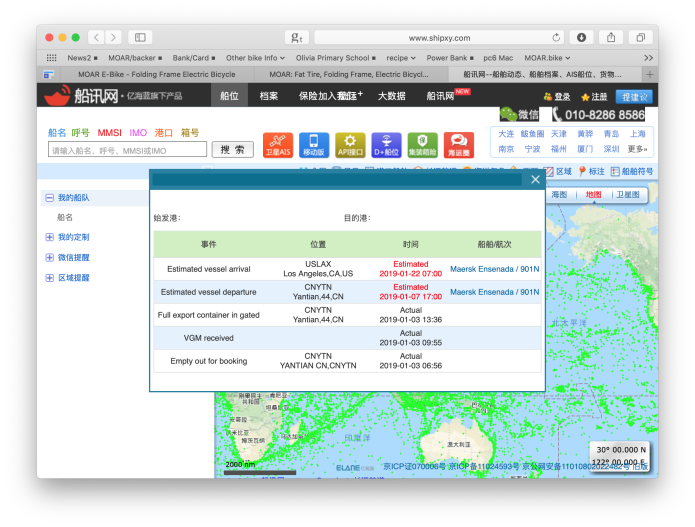 You can check it's progress below as it makes its way to LA.
https://www.marinetraffic.com/en/ais/details/ships/shipid:199849/mmsi:371274000/imo:9502958/vessel:MAERSK_ENSENADA
or here.
http://www.shipxy.com/
You should be getting an email from backerkit if your bike is on this shipment.  If not there's another shipment coming after this.
For those of you still waiting for your QR Rear Cargo Rack or missing fenders.  Some of them are in this shipment, others will be coming with the next shipment following shortly.  We won't be updating you separately.  
After this shipment and the shipment to Europe which is going through custom in Shenzhen we'll have shipped 90% of all the bikes up to this point.  
We are still working through some destinations that are a bit difficult, including Hawaii, Alaska, Puerto Rico, Brazil, Reunion, Russia, Canaries Island etc.  Pls bear with us a little more.  
Happy New Year Team MOAR!