Wed May 3 '17 Announcement
over 1 year ago – Wed, May 03, 2017 at 04:35:54 PM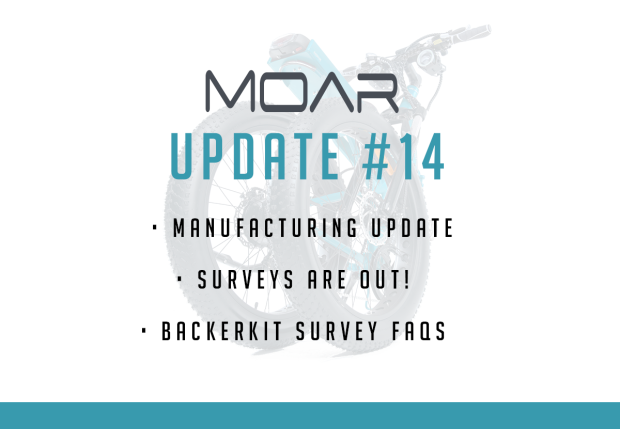 Improved Frame for all MOAR Bikes!
Our founder, Ken, has a quick update for all our backers. We updated the frame for the Rapt II before – now we've improved the strength and travel on the frames that will be shipping with all MOAR bikes! Check out the video above for more information.

Hello MOAR Backers! Your BackerKit surveys will be in your inbox shortly, sent to your Indiegogo email address. It is important to respond to your survey as quickly as you can since we need this information for fulfilling your rewards.

Should you have questions that are not answered here, or if anything is confusing/not right with your order, please contact BackerKit at https://moar.backerkit.com/faq#contact-us and they will assist you personally.
Why do I need to complete this survey?
BackerKit is helping us organize all your responses and orders to ensure you get exactly the MOAR bike you want. Completing the survey helps us sort out exactly what to build out for you, so thank you for taking this extra step.
You're also able to purchase upgrades and add-ons in BackerKit, so this is your last chance to get any upgrades you might have been eyeing during the campaign!     
You do not need to create a BackerKit account to fill out your survey, just click on the survey link in the email we have sent you, fill it out, and you're all good to go! If you decide later that you want to edit your survey response, you can go back to your survey and change it any time before we lock down the surveys for processing.
If you need to review your information or pledge status, you will be able to recover your survey here: moar.backerkit.com.
(Continued in part 2: FAQs)